Thrust Bearing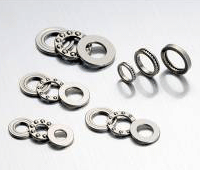 It's a rolling bearing to endure axial load. CRT & SST Type have rolling groove.
CRT Type's material: UJ2
S Type ST's material: SUS44OC
lubricant: Standard Origin lubricant
The thrust bearing at tube joint may be fixed if required.
Thrust Bearing

002-01CRT・SST(Thrust Bearing)-A(PDF:281KB)
Radial Bearing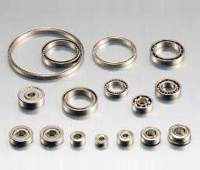 With single-row deep groove, the mini (radial) bearing is always used in precision transmission mechanics.
The open/close/flange types are available for various transmission precisions and surrounding conditions required by clients.
We may manufacture full ball bearing or other customized products according to requirements from clients.
Radial bearing

001 Radial bearingA(336KB)
Angular contact bearing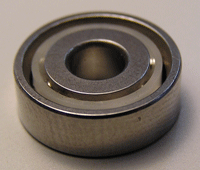 It's often used in machine tool to support load in the ball bearing thrust direction. Matched mounting such as DB (direction back) and DF (direction front) is usually used.
Angular contact bearing

006 Angular contact bearing A(PDF:223KB)

Warning: mysql_fetch_array(): supplied argument is not a valid MySQL result resource in /www/wwwroot/origin-shanghai.com/en/right.php on line 27